From the left: Mr. Jean François Samray / Director of CIFQ, Madame Nancy Gelinas/ university of Laval, Madame Maite Blanchette Vezina / Minister of Natural Resources and Forests of Quebec, Mr. Tapio Nikkanen / representative of Logset board in front of Logset 12H GTE Hybrid and CIFQ Congress hall.
First of three Government of Quebec hybrid forest harvesters is delivered
We are excited to announce that the government of Quebec is moving forward with a total of 3 hybrid machines for lower emissions, costs and more efficient forest harvesting. The first delivery of the Logset 12H Hybrid was officially announced by the Minister of Natural Resources and Forests of Quebec, Madame Maite Blanchette Vezina, on the congress of the CONSEIL DE L'INDUSTRIE FORESTIÈRE DU QUÉBEC (CIFQ) this week.
This is a natural step to strive to improve forest management with the latest available technology in tree harvesting which is also most adapted to today's challenges on the natural resources.
After the official announcement by the Minister and with great anticipation, she was looking forward to seeing and even sitting in the driver's seat of the Logset 12H Hybrid which was parked outside the congress hall.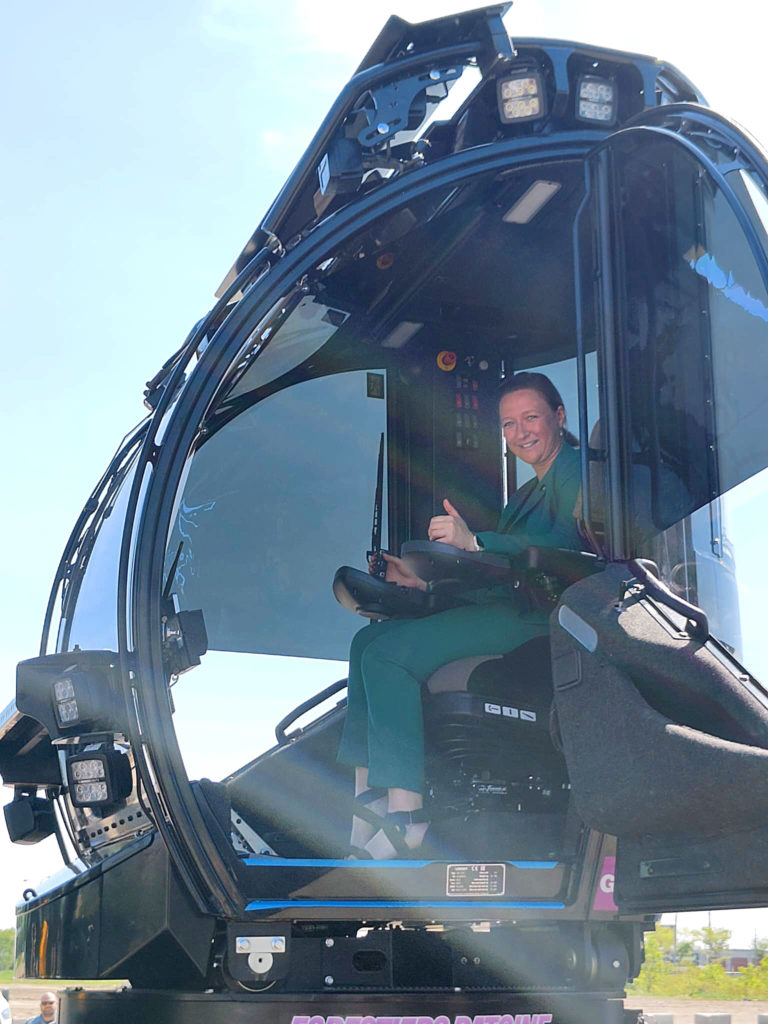 Minister of Natural Resources and Forests of Quebec, Madame Maite Blanchette Vezina in the cabin of Logset 12H GTE Hybrid.
Members of the CIFQ and guests of the congress joined the minister and gathered around the machine for many questions related to hybrid technology and the benefits around such hedge cutting machinery. All requests were answered by the team of LN machinerie which is the Logset responsible dealer in Quebec.
Logset former Chairman of the Board, Tapio Nikkanen, reminded about the whole crew behind Quebec Hybrid project: "I am today honoured to present to you after four years of project work the first Logset 12H Hybrid in Quebec" said Tapio. He also added "as our motto at Logset: never give up, the different people contributing and involved in this project did outstanding work facing and managing various hurdles along the way and I would like to thank them explicitly".
We want to thank the government of Quebec, the CIFQ and our customers for the trust and this opportunity and we look forward to the first result towards a more sustainable forest resources utilisation in Quebec.
Over 15 countries globally have already done the steps towards more sustainable harvesting with Logset hybrid.